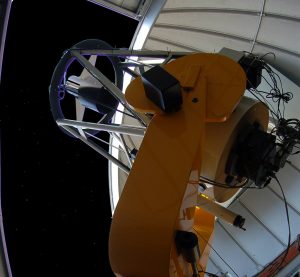 The telescope was manufactured by DFM Engineering.
The main telescope is equipped with a five-port instrument box. On-axis, there is an on-axis ZWO CMOS Planetary CMOS camera with a NxM arcmin field of view. On another port, there is room for a dedicated off-axis auto-guider. The other three ports are reserved for other instrumentation and detector design.
The finderscope is equipped with a ZWO Deep-Sky CMOS camera which helps with calibration and is capable of auto-guiding the main telescope.
More than twenty filters are available that cover wide and narrow bands from the infra-red (IR) to the ultra-violet (UV).
The original imaging system attained first light on August 16, 2000, and the wide-field imaging system attained "second light" on September 23, 2004. The present configuration, described above, brought us to a "third light" in the late summer of 2022.
Telescope Specifications
32″ ( 0.81 m ) f/8
Cassegrain, equatorial fork-mount
256″ ( 6500 mm ) focal length
31.7″/mm plate scale
Site Specifications
39° 15′ 16.32″ N
76° 42′ 34.2″ W
Elevation 95 m
True north is 18° counterclockwise w.r.t. the axis of the building.
Computers
Control Computer
CPU: Intel Pentium(R) 4
GPU: Nvidia GeForce 6200
Mobo: iEi IMBA-8650GN-R22
RAM: 2x1GB
PSU: Standard ATX 450w
Case: Proprietary DFM chassis/Desk
Storage: 500GB HDD
Other: Proprietary DFM Motor Driver ISA Card
Data Computer
CPU: Intel i7-12700
GPU: Nvidia RTX 3060 (Dell OEM)
Mobo: Asus TUF GAMING Z690-PLUS WIFI (DDR5 Variant)
RAM: 2x8GB DDR5-4800Mhz
PSU: Corsair RM 750w
Case: Lian Li 205 Mesh RGB
Storage: 500Gb SSD, 1TB HDD
Other: 10Gb Ethernet Expansion Card, USB2.0-to-RS232 Expansion Card
Cameras
Currently in Use:
Legacy Cameras:
SBIG CCD – original DFM camera
Filter Wheels:
ZWO EFWmini – 5 x 1.25" light filters

U – Ultraviolet
V – Visible
B – Blue
R – Red
I – Infrared
Cabinet Roy stole from some undisclosed physics building location